Fyrir nokkrum árum var dalalilja (Convallaria majalis L.) kjörin fallegasta planta Svíþjóðar á vegum tímaritsins Forskning och framsteg. Höfundur þessa pistils leggur sjaldan fegurðarmat á plöntur, en getur þó jánkað þessu. Hitt er aftur á móti staðreynd, að fáar tegundir fara betur í vasa en einmitt dalalilja.
Dalalilja var áður talin til liljuættar (Liliaceae); nú er hún ýmist talin til eigin ættar, dalaliljuættar (Convallariaceae) eða spergilsættar (Asparagaceae, syn. Ruscaceae), sem er algengara. Innan þeirrar ættar eru 26 ættkvíslir með samtals um 475 tegundir. Tegundir þeirrar ættar eru dreifðar um allan heim, nema Suður-Ameríku.
Dalalilja er með víðskriðulan og greinóttan jarðstöngul, sem er með fáar en kröftugar rætur. Upp af honum vex stöngull, sem er neðst klæddur nokkrum himnukenndum, fjólubláum lágblöðum og síðan koma tvö stór, breið laufblöð, dæmigerð fyrir einkímblöðunga. Hún verður um 15-25 cm á hæð.

Blómstöngull er aftur á móti mjór og blómin hanga í einhliða klasa niður á bogsveigðum efri hluta. Þar er og að finna þriðju blaðgerðina í formi lítilla stoðblaða.
Blómhlífin er bjöllulaga, hvít (sjaldan rauð) og samblaða. Hún verndar frjókornin njög vel, svo að þau er ósködduð við lok blómatíma. Á þann hátt verður sjálffrævun, ef svo vill til, að skordýr hafi sniðgengið plöntuna. – Aldin er gulrautt eða tigulsteinsrautt ber.
Nafnið dalalilja er bein þýðing á "lilium convallium", convallum, dalur;.majalis er leitt af latínu majus, maí.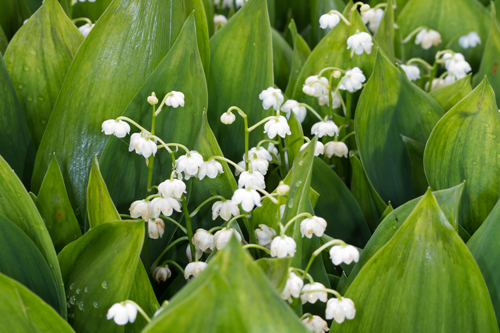 Dalalilja er öll eitruð og getur valdið verkjum fyrir brjósti. Engu að síður hefur plantan verið notuð mikið til lækninga við slæmsku í hjarta og lungum og hún er sögð þvagaukandi og lækka blóðþrýsting. Þá örvar hún hægðir og hefur því verið notuð svipað og Aloe vera. Duft af blöðum og blómum var notað til að framkalla hnerra og hún er því sögð góð móti kvefi.
Dalalilja er mjög vinsæl annars staðar á Norðurlöndum, enda vex hún þar mjög víða villt. Hún er mikið notuð sem stofustáss og þó sér í lagi í brúðarvendi.
Hér á landi er hún nokkuð víða í görðum, en ekki vitað til, að hún hafi slæðzt út fyrir þá.
Nöfn á erlendum málum:
Enska: lily of the valley, may lily, convall-lily, convallaria, Jacob's ladder, lily constancy, ladder-to-heaven, our lady's tears, male lily
Danska: Liljekonval,
Norska: liljekonvall, skjørpeblad, geitskjørpe, plistrablekkje, vipeblad, nyseblad
Sænska: liljekonvalj
Finnska: keilo
Þýzka: Maiglöckchen
Franska: muguet, muguet de mai

ÁHB /29. júní 2014
P.s. Höfundur hlaut styrk frá Hagþenki 2014 til ritstarfa.
Leitarorð:
Asparagaceae
•
Convallaria majalis
•
Convallariaceae
•
Dalalilja
•
lilium convallium
•
Ruscaceae
•
spergilsætt