Skarlatsdiskur í Skaftafellsþingi
Asksveppurinn Aleuria aurantia (Fr.) Fuckel óx á Stjórnarsandi. – Náttúrufræðingurinn, 68. árg. 2. hefti 1998:87-90
Sveppur fundinn
Hinn 6. september 1997 var höfundur að huga að gróðri í sandhólum á Stjórnarsandi í Vestur-Skaftafellssýslu innan girðingar Landgræðslu ríkisins. Á einum stað eru hólarnir þéttgrónir stórvaxinni klóelftingu (Equisetum arvense L.) nær eingöngu en þó ásamt reytingi af hundasúru (Rumex acetosella L.) á stöku stað. Þar sást glitta í fjórar rauðar flögur, sem til að sjá líktust einna helzt plastskífum, en ýmsu rusli hefur verið komið þarna fyrir í sandinum.
Við nánari athugun reyndist hér vera asksveppurinn Aleuria aurantia (Fr.) Fuckel (samnefni: Peziza aurantia Pers. ex Fr.) eða skarlatsdiskur eins og Helgi Hallgrímsson nefnir hann. Sveppurinn heyrir undir skálsveppabálk (Pezizales) og er nú talinn til eyrasveppsættar (Otideaceae).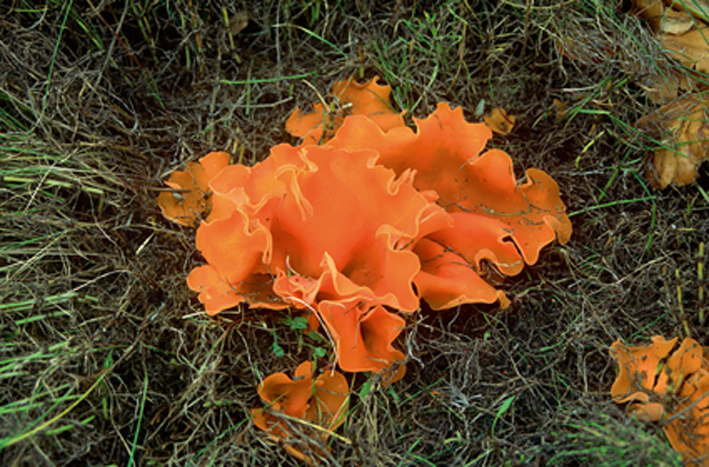 Skarlatsdiskur er mjög áberandi tegund, því að askhirzlurnar, eða aldinin eins og sumir nefna þær, eru bæði stórvaxnar og rauðlitar. Stærsta eintakið var 18 cm að þvermáli.
Askhirzlurnar eru með öllu staflausar, svo að þær sitja í berum sandinum, og eru disklaga til skálarlaga með lítið eitt sveigða og beygða jaðra. Eins og áður sagði eru þær rauðar, eða nánar til tekið skarlatsrauðar, það er að segja með rauðgulum blæ. Sveppurinn er bragðlaus.
Askarnir, sem mynda askbeðinn ásamt stoðímum, eru rétt innan við 200 mm á lengd og 10-12 mm á breidd. Þeir eru með loki á enda (operculate). Stoðímurnar eru mun mjórri eða 3-6 mm og flestar kylfulaga í toppinn.
Í hverjum aski eru átta oddbaugótt gró eða eins og sporaskja að lögun. Gróin eru 13,5-16 mm á lengd og 7-9 mm á breidd. Fullþroska eru þau alsett netmunstri og því til að sjá vörtótt á jöðrum. Til beggja enda standa út örlitlir nabbar, rúmir 1 mm á lengd. Tveir fitudropar eru mjög greinilegir í hverju grói.
Útlag askhirzlunnar er móskulega grábrúnt að lit. Það skiptist í tvö lög; innra lagið er að mestu leyti úr sívölum þráðum (ímum), sem fléttast saman, en ytra lagið er jafnt úr stórum hnöttóttum og hyrndum frumum, sem geta náð 70 mm að þvermáli. Við ytra borð mynda oddbaugóttar frumur örþunnt lag, svo að askhirzlan er sem mjölvuð að utan.
Óx skarlatsdiskur á Laugarvatni 1935?
Skarlatsdisks hefur reyndar áður verið getið frá Íslandi í ritgerð um stórsveppi (Studies in the Larger Fungi of Iceland), sem birtist í safnritinu The Botany of Iceland 1941. Höfundur hennar var danskur grasafræð-ingur, Mads P. Christiansen, sem ferðaðist um landið sumurin 1935 og 1937, aðallega í þeim tilgangi að kanna fífla (Taraxacum). Að auki hugaði M. P. Christiansen að sveppum, einkum í fyrri ferðinni, en þá var sprettutíð fádæma góð að hans sögn. Sumarið 1937 fann hann hins vegar lítið sem ekkert af sveppum.
Afrakstur ferðar M. P. Christiansens má teljast allgóður. Hann skráði 147 tegundir stórsveppa og þar af voru um 70 tegundir áður óþekktar hér á landi. Langflesta sveppi fann hann á Laugarvatni, og þar á meðal taldi hann skarlatsdisk, sem óx í túni hinn 5. ágúst 1935.
Fundur M. P. Christiansens hefur verið dreginn í efa. Ástæðan er öðru framar sú, að ekkert eintak er varðveitt í Botanisk Museum í Kaupmannahöfn. Fleira mætti til tína, eins og það, að tegundin vex að jafnaði í sandi, og samkvæmt flestum heimildum myndar hún askhirzlur undir haust, í september og október. Helzt er talið líklegt, að hann hafi ruglað skarlatsdiski saman við aðra skylda og um sumt líka tegund, glóðardisk (Melastiza chateri (W. G. Smith) Boud.). Sú tegund er jafnan nokkru minni og blóðrauð, en ungar askhirzlur eru vaxnar stuttum, brúnleitum hárum á jöðrum, sem vilja falla af. Hins vegar eru gróin nauðalík í báðum tegundum og hægur leikur að fara villur vegar. Glóðardiskur hefur fundizt á nokkrum stöðum, einkum um norðan- og austanvert landið, en einnig í Haukadal í Biskupstungum, rétta 25 km frá Laugarvatni (2. sept. 1963; Helgi Hallgrímsson, munnl. uppl.).
Lokaorð
Af framansögðu er ljóst, að skarlatsdiskur (Aleuria aurantia (Fr.) Fuckel) vex hér á landi. Ýmislegt bendir til þess, að fyrri greining hafi verið röng, og þetta sé því fyrsti fundur tegundarinnar hér. Annars staðar á Norðurlöndum er tegundin algeng og vex eins og hér nær oftast í sandi, meðfram skógarstígum og annars staðar þar, sem landi hefur verið raskað á einhvern máta. Skarlatsdiskur er því dæmigerð tegund, sem nýtur góðs af athafnasemi mannsins, og reyndar má líta svo á, að hann sé slæðingur hér á landi.
Þakkarorð
Sveppafræðingarnir Eiríkur Jensson og Helgi Hallgrímsson veittu góð ráð og margs kyns leiðbeiningar við greiningu tegundarinnar. Auk þessa las Helgi handrit og leyfði höfundi að styðjast við óbirt rit um sveppi á Íslandi og sveppafræði, sem hann hefur samið. Guðríður Gyða Eyjólfsdóttir, sveppafræðingur á Náttúrufræðistofnun Íslands á Akureyri, jók höfundi leti og leitaði tegundarinnar í safni þar; Pálína Héðinsdóttir, bókasafnvörður á Náttúrufræðistofnun Íslands í Reykjavík, sýndi fágæta liðsemd við að útvega sérfræðirit; Aðalsteinn Davíðsson, cand. mag., las handrit og Bera Þórisdóttir, fil.kand., yfirfór útdrátt á ensku. Allt þetta fólk á skildar kærar þakkir.
Heimildaskrá
Breitenbach, J. und Kränzlin, F. (1981): Pilze der Schweiz. Beitrag zur Kenntnis der Pilzflora der Schweiz. Band 1 Ascomyceten.– Verlag Mycologia, Luzern. S. 313.
Christiansen, M. P. (1941): Studies in the Larger Fungi of Iceland. – The Bot. of Iceland. Vol. III, part II, 11: 187-225.
Eckblad, Finn-Egil (1968): The Genera of the Operculate Discomycetes. A Re-evaluation of their Taxonomy, Phylogeny and Nomenclature. – Nytt magasin for botanikk. Vol 15, no. 1-2: 1-191.
Helgi Hallgrímsson (1991): Íslenskt sveppatal II: Asksveppir. – Fjölrit, Náttúrufræðist. Norðurlands. 15:1-40 bls.
Helgi Hallgrímsson: Sveppabókin. Handbók um íslenska sveppi og sveppafræði. – Óútgefin, handrit 1997.
Lange, M. (1964): Svampflora – Stockholm. 239 s.
Summary
Aleuria aurantia (Fr.) Fuckel in Iceland
At the beginning of September 1997 the author found a big scarlet ascomycete on a sand dune dominated by Equisetum arvense L. in association with Rumex acetosella L. at Stjórnarsandur, Vestur-Skaftafellsýsla, in South-Iceland. The specimens clearly belong to Aleuria aurantia (Fr.) Fuckel (Orange Peel Fungus) and are conserved in the author's herbarium.
This same species was recorded 1935 at Laugarvatn, South-Iceland by M. P. Christiansen (1941). No specimens are conserved in the Botanical Museum in Copenhagen to confirm this discovery of Aleuria aurantia (Fr.) Fuckel in Iceland. It has been suggested, with some plausibility, that the identification was incorrect. The species bears some resemblance to Melastiza chateri (W. G. Smith) Boud. and might have been confused with it. The latter one is not uncommon in Iceland and has been gathered not
further away than 25 km from Laugarvatn.
Póstfang höfundar / Author's address
Ágúst H. Bjarnason
Laugateigi 39
IS-105 Reykjavík
Tölvupóstur (e-mail): [1]agusthbj@gmail.com
Myndir
Mynd 1. Þverskorin diskhirzla; a. askbeður, b. fóðurlag og c. útlag. – Section through an apothecium; a. hymenium, b. subhymenium and c. excipulum.
Links: 1. mailto:agusthbj@gmail.com
Mynd 2. Skarlatsdiskur. Stjórnarsandi, hinn 6. september 1997. – Aleuria aurantia
Mynd 3. Hluti af askbeði í skarlatsdiski; a. askur með átta gróum, b. stoðímur og c. þrjú askgró. – Part of the hymenium of Aleuria aurantia; a. ascus with eight spores, b. paraphyses and c. three spores.
Leitarorð:
aleuria
•
aurantia
•
sveppur