Formálsorð
Sumarið 1930 fengu þeir Henning Muus (1907-1996) og faðir minn, Hákon Bjarnason (1907-1989), styrk úr Sáttmálasjóði til þess að ferðast norður í land og suður fjöll. Í þessari ferð skoðuðu þeir plöntur, birkiskóga, en ekki sízt jarðveg og öskulög. Víða athuguðu þeir jarðvegssnið og tóku mörg sýni og mældu sýrustig (pH).
Þetta var upphaf á víðtækum rannsóknum á öskulögum, sem Hákon sinnti allt fram á fimmta áratug síðustu aldar. Meðal annars leiddu þessar athuganir til þess, að uppruni "hvítu öskulaganna" var réttilega rakinn til eldgosa í Heklu. Fáum árum síðar flutti Hákon erindi á fræðslufundi í Hinu íslenzka náttúrufræðifélagi, þar sem hann greindi frá þessum niðurstöðum. Pálmi Hannesson, rektor, tók til máls að erindi loknu og sagði, að þetta gæti ekki staðizt, því að Hekla hefði aldrei gosið líparít-ösku. Þá stóð upp formaður félagsins, Bjarni Sæmundsson, og sagði í tilefni af orðum Pálma, að svona mættu náttúrufræðingar aldrei tala.
Á námsárum sínum í Danmörku var Hákon í verklegu námi hjá Franz Muus, sem stýrði víðlendum skógum á Sjálandi. Hann bjó á heimili þeirra hjóna, þeim Ingeborg [fædd Boserup] og Franz, sem hét reyndar fullu nafni Frants Vilhelm Ferdinand Ahlefeld Øllgaard Muus. Henning, sonur hjónanna, var samtímis Hákoni í námi í Landbúnaðarháskólanum.
Til ferðarinnar leigðu þeir félagar fjögur hross af séra Eiríki Albertssyni [1887-1972] frá Flugumýrar-hvammi, sem þá var prestur á Hesti í Andakílshreppi.
Þessi ferð var hin fyrsta af fjölmörgum hestaferðum Hákonar um landið allt fram á fimmta áratug síðustu aldar, þegar bíllinn tók við sem aðal samgöngutæki. Fimm hestar fylgdu embætti skógræktarstjóra, þegar Hákon tók við árið 1935. Sjálfur átti hann allmörg hross. Haft var fyrir satt, að Hákon hefði verið víðförulastur allra um landið, að Þorvaldi Thoroddsen einum undanskildum.
ÁHB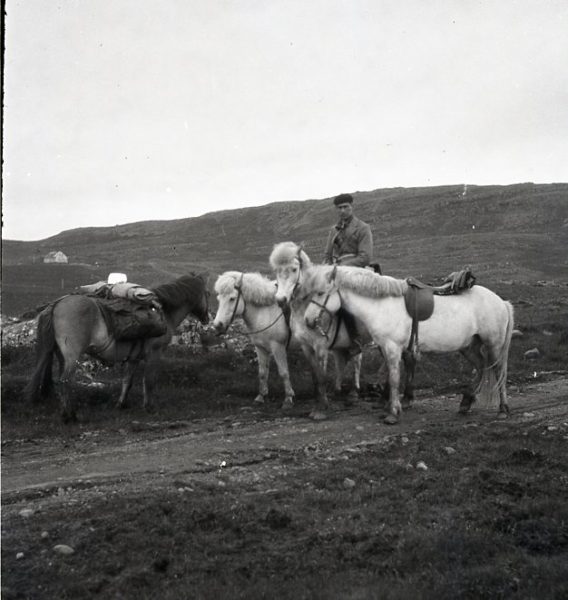 Ferðasaga:
júlí 1930
Klukkan 10 árdegis átti Suðurlandið að fara og risum við úr rekkju um kl. 7 f.h. Var í mörgu að snúast, en kl. 91/2 kom bíll, sem fór með okkur ofan eftir. Pabbi [Ágúst H. Bjarnason, prófessor] fylgdi okkur til skips og laust eftir 10 sigldi báturinn.
Við urðum samferða Ingólfi lækni Gíslasyni [1874-1951] úr Borgarnesi, konu hans [Oddnýju Ólöfu Vigfúsdóttur] og dóttur [Ágústu]. Þegar þangað kom eftir ofurlítinn stop á Akranesi þáðum við kaffi hjá læknishjónunum og Obbu [?].
júlí
Vöknuðum við í rigningu og súld og hafði runnið vatn inn undir mig. Ekki var það þó neitt til muna. Við átum nú og löguðum okkur til eftir föngum. Fengum síðan hestana og lögðum á stað út á Hvanneyri til þess að líta á búskapinn. Úti við Hvítárbrú skall á okkur stórveðurs rigning, en við klæddumst í vatnsföt og leið síðan vel. Á Hvanneyri sýndi Þórir Guðmundsson [1896-1937] okkur búið og hlöður og fjós, og blómgarðinn skoðuðum við ásamt Halldóri Vilhjálmssyni [1875-1936]. Voru þar allmörg reynitré í góðum þroska, en einna best óx víðirunni þar. Okkur var síðan boðið kaffi og kökur og um það leyti, sem við fórum, komu kýrnar heim. Litum við þá snöggvast inn í fjósið og héldum síðan upp í Skorradal. Þar stoppuðum við rétt sem snöggvast og héldum síðan heim að Hesti og komum þar um 11-leytið. Fengum að borða og fórum svo að sofa í tjaldi okkar á túninu.
júlí
Við lögðum af stað frá Hesti sem leið liggur upp Norðurárdal og þræddum veginn. Veður var gott, en að mestu sólarlaust. Sá lítið til fjalla, en þurr hélst hann. Sóttist ferðin frekar hægt og við riðum niður að Hreðavatni og lágum þar um stund.
Við reyndum að reka hestana, en gekk það frekar illa, því þeir sneru oft við, og fóru þá kanski eins langt aftur eins og þeir höfðu farið fram síðasta korterið.
Var ætlunin að ná Fornahvammi um kvöldið, en það var orðið svo áliðið er við komum að Hvammi, að ég taldi ráðlegast að dvelja þar nætursakir.
Var þar húsfylli, en við tjölduðum í túninu og leið ágætlega. Matur var okkur gefinn kvölds og morguns, en ekki vildi bóndinn þar, Sverrir Gíslason [1885-1967, fyrsti formaður Stéttarsambands bænda], hafa neitt fyrir það.
júlí
Sváfum vært í tjaldi okkar á túninu í Hvammi til kl. 81/2. Alllangur tími fór í að búast til ferðar og loks átum við fisk og graut hjá bóndanum. Klukkan var 11, er við létum úr hlaði. Í för með okkur slóst Jósef Jónsson [1865-1938] frá Melum í Hrútafirði. Var hann á leið heim frá greftrun mágs síns að Lundi í Lundarreykjadal. Er hann faðir Bjarna hrossleggs [Bjarna Jósefssonar efnafræðings 1892-1957] og kannaðist ég þá strax við hann frá mínum yngri árum. Ferðin gekk greiðlega upp að Fornahvammi og þar drukkum við hádegiskaffi kl. 2, sem líka varð afmæliskaffi hjá mér. Sendi ég þaðan skeyti heim.
Síðan lögðum við á heiðina og þótti mér aðdragandinn nokkuð langur. Fórum við hægt alla leið upp að sýsluskilum, en hjá sýslumarkasteininum gátum við því miður ekki fengið tilhlýðilegan snaps, því töskuhesturinn var hlaupinn á undan með pelann. Á heiðinni mættum við þoku og dimmviðri. Samt sóttist leiðin greiðlega og við komum að Melum í Hrútafirði um kl. 6. Þar þáðum við kaffi og hvíldum okkur stundarkorn. Síðan héldum við yfir Hrútafjarðará fyrir neðan bæinn og gekk leiðin greiðlega að Reykjum. Síðasta hluta leiðarinnar rigndi allþétt, en ekki sakaði okkur neitt. Á Reykjum var okkur vel tekið og fengum ágætis mat, en rúmin, sem við sváfum í, voru hér um bil 1 alin of stutt. En við sváfum svefni hinna réttlátu til næsta morguns.
júlí
Vorum við vaktir kl. 7 með sjóðandi morgunkaffi og kökum. Veðrið var svipað því sem kvöldið áður, en þegar kom yfir Hrútafjarðarháls þá tók það að batna og varð sæmilegt ferðaveður það sem eftir var dags. Gekk vel áfram en við höfðum oft langar hvíldir, því dagleiðin var stutt áætluð. Við Gljúfurá stönsuðum við alllengi og dálítið í Vatnsdalshólum. Þaðan var stutt til Sveinsstaða, þar sem við dvöldum nóttina.
júlí
Vöknuðum við kl. 81/2 og risum þegar úr rekkju. Ég símaði þá heim og talaði við mömmu og leið öllum vel. Okkur hafði verið sagt frá einkennilegum steinum í Vatnsdalshólum, sem líktust trjástofni í þverskurði. Fundum við einn af þeim, en ekki gat verið um steingert tré að ræða. Ennfremur fórum við út í víðishólma með prestinum á Steinnesi [Þorsteini B. Gíslasyni, sem sat þar frá 1922 til 1967], sem er næsti bær fyrir utan Sveinsstaði. Vex víðirinn þar allvel og er að breiða sig um hólmann að sögn klerks. Mældi ég þar árssprota frá í fyrra, sem voru frá 17 til 22 cm að lengd, gildustu stofnarnir eru frá 6 til 8 cm við rótina og 6-7 fet á hæð, þar sem hann er hæstur. Tókum eina jarðvegsprufu.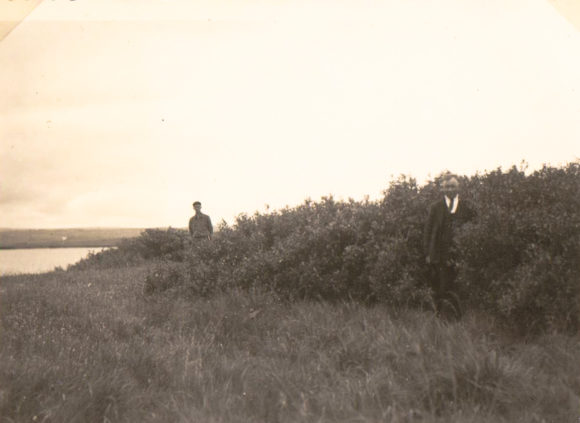 Frá Sveinsstöðum lögðum við á stað um 2 leytið og til þess að stytta okkur leið fórum við inn að Reykjum og svo suður á bóginn Reykjabraut og með Svínavatni austanverðu og niður að Blöndu. Þar vorum við ferjaðir yfir með hestum og öllu okkar hafurtaski. Vorum við að fram komnir af sulti, þegar við vorum þangað komnir og gaf ferjumaðurinn og kona hans [Þorgrímur Stefánsson og Guðrún Björnsdóttir í Syðra Tungukoti í Blöndudal] okkur að éta góðan mat. Var þar hreinlegt og þrifalegt, þótt fátækt væri.
Þennan dag tókum við eftir skógarleifum, þegar við fórum fram hjá Búrfelli og því, sem kallast Bakkaásar á kortinu. Kom það fyrir á svæði, sem var 2-3 km á lengd meðfram veginum í skurði. Vegurinn lá yfir mýrar undir holti og landið hallaði til NV-V. Leifarnar lágu undir moldarlagi, sem var 75 cm–100 cm á þykkt. Gildasti búturinn var rúml. 10 cm á þykkt og hefur þó verið ívið gildari upphaflega, því börkurinn var að mestu flysjaður af. Í Vatnsskarði sáum við samskonar leifar, en greinar og bútar allir grennri (5 cm), enda liggur það 300 metra yfir hafflöt, en fyrri staðurinn um 130-150 metra.
Jósef á Melum sagði mér á leiðinni yfir Holtavörðuheiði, að þegar hann reif húskofa á Melum á sínum fyrri búskaparárum, þá var þar raftur all-digur, sem sagt var að væri úr Sveinatunguskógi úr Norðurárdal. Hve langt var síðan hann var höggvinn vissi hann ekki, en taldi víst að hann væri gamall. Væri ekki ósennilegt, að hann væri frá 1800 eftir því sem ég gat komist næst. Á Sveinsstöðum höfðum við spurnir af stórri birkihríslu, sem á að vera þar frammi í gili á Vatnsdal austanverðum. Ennfremur sagði ferjumaðurinn á Blöndu frá annarri hríslu, sem óx dálítið fyrir framan hans bæ. Sumir töldu hana um 4 mannhæðir.
Frá ferjumanni hjeldum við upp Vatnsskarð og reistum tjaldið við vestri enda vatnsins [Vatnshlíðarvatns] um 2 leytið; heftum hestana og gengum til hvíldar, vöknuðum við af værum blundi þann …
júlí
… og sýndi klukkan mín 61/2, þegar ég skreiddist út og eldaði súpu úr súpudufti. Lögðum við svo á stað ofan í byggð í hægðum okkar og ofan að Fjalli í Sæmundarhlíð. Þá kom það í ljós, að klukkan mín hafði seinkað sér og þegar við héldum að klukkan væri 12 þá var hún í raun og veru 5. Hjá Jakobi Benediktssyni [1907-1999; Hákon og Jakob voru bekkjarbræður í menntaskóla] þáðum við kaffi og urðum að bíða eftir því í 11/2 tíma. En á meðan fengu hestarnir góða hvíld. Síðan héldum við út á Sauðárkrók og komum þangað um 9 leytið eftir þéttings reið. Blés hann hvasst á norðan og var allkaldur, en það tafði þó ekki ferð okkar til muna. Fengum kaffi og lítið eitt af nesti á Sauðárkróki og héldum síðan yfir í Hegranes, þar sem við náttuðum okkur kl. 12 að kvöldi.
júlí
Skreiddumst við á fætur um kl. 8 og bjuggumst til ferðar. Kl. 9 lögðum við á stað og fórum eftir nýja bílveginum, en þar eð hann var aðeins hálfgerður urðum við að snúa við og fara með sjónum. Tafði þetta okkur um 1 tíma. Lögðum við leið okkar heim að Hólum og komum þar um 2 leytið til Steingríms bónda [Steingríms Steinþórssonar 1893-1966]. Dvöldumst við þar það sem eftir var dags og næstu nótt. Daginn notuðum við til þess að skoða Hólakirkju og rústir og öskuhauga; í einu af neðstu lögunum fundum við viðarkolabút úr birki. Í honum voru 16 árhringir og allir jafnstórir að heita mátti, voru þeir að meðaltali 1 mm í þvermál. Viðarkol voru í haugunum frá því neðsta til þess efsta.
Um 61/2 leytið gengum við upp á Hólabyrðu upp að altari Gvendar góða og vorum um 2 tíma að því. Síðan átum við ágætan kvöldverð og gengum til hvílu.
júlí
Vorum við vaktir með morgunkaffi. Svo sótti ég hestana og lagði á þá. Átum við síðan morgunmat og lögðum á stað inn eða fram að Reykjum, sem er innsti bær í dalnum. Þar var okkur gefin mjólk að drekka og drengur látinn fylgja okkur inn eftir og vísa rétta slóð. Lögðum við á heiðina í ágætisveðri, sem hélst allan daginn, en heldur sóttist leiðin seint, því í fyrstu var bratt mjög og síðan tók við stórgrýtisurð eða snjófannir. Var gaman að því að ferðast svona á snjó um hásumar, en sólin skein á fannirnar og brenndi á okkur andlitin, svo að okkur logsveið. Brátt tók að halla undan fæti, en löng og ógreiðfær var leiðin þangað til kl. 7 um kvöldið þá var okkur sagt, að við ættum eftir 5 tíma reið til Akureyrar og stóð það heima. Við hottuðum á hestana og kl 12 vorum við við Gróðrarstöðina á Akureyri. [Þeir hafa farið Hjaltadalsheiði og komið niður fremst í Hörgárdal við Ásgerðarstaðasel eða Staðarbakka.]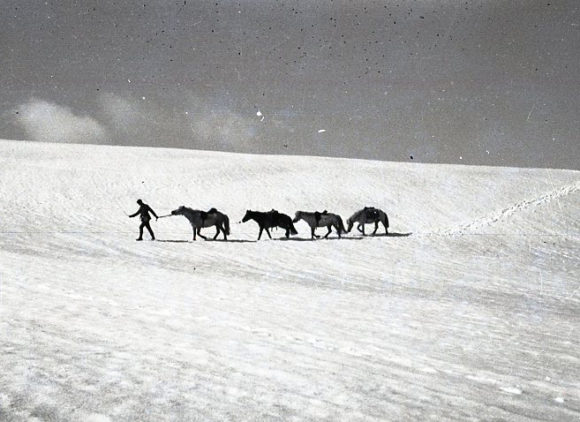 Ólafur [Jónsson, ráðunautur, 1895-1980] hafði fengið að vita um ferðir okkar frá Hólum og bjuggumst við við því að vera tekið með opnum örmum, en húsið var lokað og læst og allir í fasta svefni. Þótti okkur lítil gestrisni þar, en ég barði fólk upp og loks kom Ólafur út í glugga. Sagði hann okkur, að hestarnir ættu að vera á Hömrum en við sjálfir á Hótel Akureyri. Það þótti okkur fullmikið fyrir haft að fara úteftir aftur, svo að við tjölduðum á Hömrum innan um stóðhross og hrossatað. Sváfum við þar vært til morguns.
júlí
Fengum dálítinn matarbita á Hömrum eftir næstum því algert matarleysi í 24 tíma og síðan lögðum við ofan í bæ.
Bar fátt markvert til tíðinda þann dag. Við keyptum okkur mat hjá Pétri Lárussyni [1897-1957; þeir Hákon voru bræðrasynir] og heimsóttum hann um kvöldið.
júlí
Sunnudagurinn rann upp heiður og fagur, en við sváfum lengi þann dag. Fór út og heimsótti Ingimar Óskarsson [1892-1981]. Leit á grös með honum og svo ókum við í bíl suður í Gróðrarstöð til þess að heilsa upp á Ólaf og stöðina. – Um kvöldið vorum við á leiðinlegu balli. Tók ég nokkrar sýruprufur fyrir Ólaf (sjá síðar).
júlí
Fór allur fyrri hluti dags í að búast til ferðar. Ég sótti hestana fram að Hömrum og tók það tvo tíma sem við var að búast. Kaffi drakk ég í Gróðrarstöðinni á heimleið frá Hömrum; þegar ég kom á hótelið var Einar Bjarnason [1907-1982; þeir Hákon voru bekkjarbræður í menntaskóla] þar og svo drakk ég aftur kaffi þar. Kl. 6 lögðum við upp frá Akureyri sem leið liggur yfir Eyjafjarðará og upp í Vaðlaheiði. Þar tókum við eftir hundhvolpi, sem hafði elt okkur frá Akureyri og fengum við hann með yfir í skóginn. Þangað komum við um kl. 9 og fór ég strax heim að Vöglum til Kristjáns Kristjánssonar [1869-1953; var settur skógarvörður stuttan tíma eftir lát bróður síns, Stefáns]. Tók hann mér vel og sagði, að ég skyldi láta eins og heima hjá mér, bæði í skóginum og eins hjá honum. Slepptum við síðan hestunum í skóginn og slógum upp tjaldi fyrir neðan græðireitinn.
júlí
Komum okkur fyrir og gengum um skóginn, spjölluðum við Kristján og litum á trén. Víða þarfnast skógurinn grisjunar, sérstaklega í suðurhluta hans. Vöxtur mismunandi frá ári til árs og snjóþyngsli á vetrum brjóta oft stofna sakir þess hve mjóslegnir þeir eru. Bændur að hætta að nota eldivið úr skógi, en fá kol frá Akureyri, svo að ekki borgar sig að grisja. Melskellur og uppblásin svæði innan girðingar að gróa upp. Sumstaðar líka utan hennar vex birki vel, t.d. fyrir vestan og norðan Háls.
23.-26. Júlí
Vorum við að grafa í jörð og skoða plöntur um allan skóginn. 25. var Muus á Akureyri til þess að sækja lífsnauðsynjar o.fl. (tóbak).
27. júlí
Sunnudagur. Tókum saman föggur okkar og fengum sumt af farangrinum geymt hjá Kristjáni og höfðum síðan bara farangur á einn hest. Riðum svo sem leið liggur austur á bóginn í gegnum Ljósavatnsskarð. Hittum Gunnar Schram [1897-1980; stöðvarstjóri Landsímans á Akureyri 1924-1963; síðar ritsímastjóri í Rvík], sem trakteraði á snapsi. Skoðuðum Goðafoss og stoppuðum aðeins við læknisbústaðinn á Breiðumýri í Reykjadal, en Ibsen [það er Haraldur Jónsson, læknir þar og í Vík í Mýrdal; kallaður Ibsen af vinum sínum. Kvæntur Maríu Skúladóttur Thoroddsen] var ekki heima.
Riðum Hólasand til Mývatns. Gistum í Reykjahlíð og leið vel. Mættum Skotanum Mac Kensie.
júlí
Fórum í morgunbað í Stórugjá. Stórfínt. Riðum svo að Grímsstöðum með Skotann í fylgd með okkur og fórum í Slútnes með bóndanum [Sigfinni Sigurjónssyni, 1865-1940] á Grímsstöðum. Indælisveður allan daginn. Í Slútnesi mættum við Ingólfi Davíðssyni [1903-1998] og fylgdum honum og Skotanum til ferjubátsins er gengur til Skútustaða. Snerum til Reykjahlíðar um kvöldið og sváfum þar af um nóttina.
júlí
Löng dagleið fyrir höndum. Fylgdum slóð austur yfir og símalínum. Hjá staur 185 eða eitthvað nálægt því beygðum við af til vinstri og riðum eftir Dettifossi. Gekk leiðin greitt, þótt löng væri og fundum við fossinn án erfiðleika. Þvílíkur foss, ómögulegt að lýsa honum. Muus reiknaði út, að dómkirkjan í Hróarskeldu gæti staðið í gili því, sem fossinn dettur ofan í og aðeins náð með toppana á kirkjuturnunum upp yfir fossbrúnina. Snæddum lítið eitt við fossinn og héldum svo rakleitt áfram. Brátt tók að halla undan fæti og riðum við greiðlega til þess að ná háttum í Svínadal. Gisting var auðfengin og aðhlynning var hin besta í alla staði.
Í Svínadal kölluðu menn hvíta lagið jökulleir, þar sem það víða stakk fram úr moldarbörðum, enda þótt það lagi 100 metra yfir Jökulsá, héldu þeir, að hún hefði myndað það.
júlí
Kaffi á rúmið og mikið vafstur í kringum okkur af hugulsamri, allfeitri jómfrú á meðan við klæddum okkur. Sótti hestana og síðan héldum við á stað niður með Jökulsá og í Ásbyrgi.
"Sögn er, að eitt sinn um úthöf reið
Óðinn og stefndi inn fjörðinn.
Reiðskjótinn, Sleipnir, á röðulleið
renndi til stökks yfir hólmann, á skeið,
spyrnti í hóf, svo að sprakk við jörðin, –
sporaði byrgið í svörðinn."
(Einar Benediktsson)
Einkennileg geologisk myndun. "Hvíta lagið" finnst ekki inni í byrginu, er það yngra en líparítgosið? – Þægilegur dagur í alla staði og frá Ásbyrgi hæg leið til Víkingavatns, þar sem okkur var tekið vel, er við loks fengum inn að ganga. Hestarnir settir í haga og við sváfum vært.
júlí
Á fætur og hljóp eftir hestunum. Síðan af stað til Húsavíkur yfir Tunguheiði, en þaðan sáum við til Grímseyjar og fjöllin við mynni Eyjafjarðar, en þau eru kaldranaleg og hrjóstrug. Falleg í góðu veðri, en þar með er allt sagt um útkjálka þá. Minntist þess er ég sigldi með Namdal [fiskiskip] 1924 frá Akureyri og áleiðis til Reykjavíkur. Þann morgun voru fjöllin falleg þrátt fyrir kulda og sjóveiki. Síðan hefi ég mörgum sinnum siglt fram hjá þeim, en er alltaf í nöp við þau. Samt eru þau góðir útverðir fyrir Eyjafjörð. Stoppuðum lítið eitt á Húsavík og drukkum kaffi, skiptum peningum hjá Bjarna Benediktssyni [1877-1964], föður Ásgeirs [1910-1978] "kapitalista". Riðum þaðan inn Laxárdal [hafa farið yfir Laxárdalsheiði upp af Þverá fyrir sunnan Hvítafell] og gekk ferðin greitt í byrjun, en hestarnir tóku að lýjast, er á daginn leið. Náðum þó Laugaskóla seint um kvöld og var Konráð Vilhjálmsson [1885-1962] þá genginn til hvílu, en klæddist og tók á móti okkur. Veitti okkur góðan greiða, sem vert er að minnast. Dagleiðin þennan dag var með mesta móti, um 80-90 km og var vel haldið áfram; næstum of vel vegna hestanna, enda stóðu þeir og hímdu eftir að þeim var sleppt í góða og grösuga girðingu.
ágúst
Laugaskóli. Hestarnir voru lúnir eftir síðustu dagleið, svo við fórum hægt að öllu, enda er ekki nema 4 tíma reið til Vaglaskógar. Skoðuðum litla girðingu ásamt Konráði kennara, þar sem birki hafði verið gróðursett í fyrra. Plönturnar voru illa settar niður og voru flestar visnar eða aldauðar vegna holklaka. Einhver búfræðingur hafði staðið fyrir plöntuninni og ekki gert það betur. Nauðsynlegt er að koma upp græðireit á þessum stað og virtist það best tilfallið að gera það í suðausturhorni girðingarinnar.
Þegar við höfðum snætt, kvöddum við þann húsbónda, er hafði sýnt okkur mestu gestrisni af öllum þeim er við mættum á leið okkar. Lögðum síðan af stað, en á Reykjaheiði [Fljótsheiði] stoppuðum við við malargryfju, en þar tók ég mynd af báðum hvítu lögunum er við sáum á leið okkar um Þingeyjarsýslur. Síðan staðnæmdumst við aðeins hjá Goðafossi en úr því héldum við rakleitt til Vaglaskógar. Þar sáum við bíl úr Reykjavík með tveimur stelpuskjátum og strákum en það ók allt saman inn í skóginn þvert ofan í bann skógarvarðar. Einn sýndi sig síðan vera Gunnlaugur [1909-1975] sonur Ásgeirs Gunnlaugssonar kaupmanns í Reykjavík.
Sóttum dót okkar til Kristjáns skógarvarðar og bjuggum okkur undir nóttina og næsta dag, en þá var ferðinni heitið til Akureyrar. Hundurinn, sem verið hafði í geymslu hjá Kristjáni, var stunginn af og sáum við hann ekki upp frá því. Einn hestanna var lítið eitt haltur og særður undan gjörð og hrafn hafði dritað mitt á ennið á þeim hasta, Ósland.
ágúst
Fórum okkur hægt að öllu og vorum í skóginum allan fyrri hluta dags. Lögðum fyrst af stað er við höfðum kvatt Kristján og fjölskyldu hans. Komum til Akureyrar að kvöldi, þar sem ég hitti Steinþór Sigurðsson [1904-1947; æskuvinur Hákonar]. Var gaman að mæta honum aftur. Drukkum kaffi uppi hjá honum og röbbuðum fram og aftur. Var hann með mælingarmönnunum dönsku, en var annars sinn eigin herra. Hann býr fjandi vel, en dapurt hlýtur það að vera þarna að vetrarlagi innan um montna og frekar fáfróða Norðlinga.
Bjuggum okkur undir morgundaginn og skreiddumst svo í rúmið. Hestarnir voru úti við Glerá þessa nótt og komu um hádegi daginn eftir. – Þá byrjar ferðalagið til Suðurlandsins.
ágúst
Sunnudagur. Um 1 leytið lögðum við af stað frá Akureyri og fram Eyjafjörð. Steinþór Sigurðsson fylgdi okkur inn á móts við brýrnar, þar áðum við og héldum síðan þjóðbrautina fram eftir. Við Grund stoppuðum við í gróðrarstöðinni og tókum prufur með. Þaðan héldum við rakleitt að Hólum og beiddumst gistingar. Var það auðfengið þótt lítil væru efni fyrir hendi. Við urðum að sofa í sama rúmi frammi í stórum skála, en það versta var, að botninn brotnaði undan Muus, þegar hann lagðist upp í og varð úr því hálfgert klúður, en samt sofnuðum við vært og sváfum til morguns. Það allra versta kom þó fyrst í ljós, þegar við vorum lagðir á stað og það var, að Muus hafði fengið fló á sig.
ágúst
Lögðum við tímanlega á stað og fórum framhjá Leyningshólum fram að Hólsgerði. Þar var okkur vel tekið, gefið kaffi, benzín [á prímusinn] o.fl. Þaðan héldum við svo inn að Hákarlatorfum og áðum hestunum. Síðan lögðum við á hjallann og vorum um 1 klst. upp að Sankti Pétri. Þá var frekar drungalegt veður og töluverð þoka fram undan. Hann var á norðaustan og herti frekar eftir því sem á daginn leið. Voru rigningaskúrir öðru hverju, en við héldum ótrauðir áfram. Þegar við komum upp á hjallann, þar sem vegurinn liggur hæst (900 m), breyttust rigningaskúrirnar í haglél og gekk hann nú á með byljum um stund. Vindurinn fór líka frekar vaxandi, en sem betur fór var hann í bakið. Hefðum við haft slíkan vind á móti hefðum við tæplega náð Eystri Pollum það kvöld.
Þegar við komum niður af sjálfum Vatnahjalla fór leiðin að verða greiðari og nú hallaði heldur undan fæti. Rigningin og hríðarnar hættu líka að mestu, þótt veðurhæðin héldist. Eftir nokkra tíma komum við að Jökulsá eystri nokkru fyrir sunnan Geldingsá. Þar fellur hún í miklum gljúfrum og fórum við því ekki niður að henni.
Lítilli stundu síðar komum við í Eystri Polla og þar slógum við svo upp tjaldi okkar þá nótt. Leið okkur ágætlega, þótt kalt væri úti fyrir og þegar við höfðum snætt vel lögðumst við til hvílu.
ágúst
Skreiddist ég út úr tjaldinu um 7 leytið, en sá hvergi nema einn hest. Hljóp ég fram og aftur um melbörðin og fann þá loks rétt hjá tjaldinu undir melbarði. Gróf ég um einn metra niður í gróðrarjarðveginn í Eystri Pollum og var hann all einkennilegur (tók með prufu).
Frá Eystri Pollum fórum við ofan að [Austari-]Jökulsá og komum að henni rétt fyrir neðan vaðið, en þar eð hún var ekki mikil þá fórum við á næsta broti og komumst klakklaust yfir. Nú áttum við langan dag fyrir höndum og fórum þess vegna ekki í Vestri Polla, heldur tókum við beina stefnu eftir D[aniel] Brunn. Fórum þó heldur of sunnarlega, en þar eð veður var bjart framundan tókum við brátt stefnu á fell eða fjall það, sem við álitum Rjúpnafell á Kjalvegi. Yfirleitt var það alls ekki sem best að átta sig á D.B. og eins reyndist það hér.
Leiðin var greiðfær vel og okkur miðaði vel áfram, en hvergi sást stingandi strá. Geldingahnappar sáust á stöku stað og einstaka strá þar, sem raklent var. Hestarnir gengu vel áfram, þótt þeir væru tæplega hálffullir úr Eystri Pollum.
Við Jökulsá vestri var deiglendi með mosaþembum, en lítið af fóðurjurtum og það sem það var var mjög snöggt. Þennan dag var jafn mikið rok á eftir eins og daginn áður og dimmviðri fyrir aftan okkur en fyrir framan var heiðríkt og glampaði sólin á Langjökul og Hrútafell. Þegar við vorum komnir fram hjá Sátu, sáum við að við myndum hafa farið alltof sunnarlega og höfðum álitið Hrútafell vera Kjalfell. Komum við því um 20 km of sunnarlega að Blöndu, en þar eð áin var með minnsta móti fórum við yfir þar sem okkur leist best á. Fór ég fyrst með tvo hesta, en Muus horfði á á meðan. Áin féll þar í tveimur álum með ofurmjóu rifi á milli. Fyrri állinn var grunnur mjög, en sá síðari var nokkuð djúpur og hélt ég því upp á móti straumi þangað til hann grynnkaði og fór þar yfir. Muus kom á eftir sömu leið og gekk vel. Stuttu síðar komum við auga á Hveravelli og héldum þangað styðstu leið. Slógum upp tjaldi bak við sæluhúsið, en notuðum það sem eldhús og geymslu. Var heldur kalt í veðri, en heitt vatn nóg í hverunum. Lögðumst til svefns eftir miðnætti og vöknuðum ekki fyrr en 10 næsta morgun þann:
ágúst
Hituðum hafragraut að vanda , brauð og smér. Fórum okkur hægt að öllu til þess að láta hestana hvíla sig eftir hina löngu dagleið daginn áður og fórum fyrst af stað um 2 leytið.
Völdum við vestari leiðina, sem átti að vera öllu greiðfærari og var það sennilega líka. Vegurinn var vel varðaður, en á hrauninu var oft illfært fyrir hestana. Sá bleiki drap niður fæti í hraunholu og heltist lítið eitt á vinstri afturfæti. Hann kútveltist einnig með byrðarnar rétt á eftir og lá afvelta þangað til við veltum honum við og hjálpuðum honum á fætur.
Að Hvítárvatni komum við um 8 leytið að kvöldi og hittum þar fyrir Jak Thor [Jakob J. Thorarensen, skáld og húsasmið, 1886-1972], konu hans [Borghildi Benediktsdóttur 1897-1996] og mann með þeim, sem voru þar við að byggja hús fyrir ferðafélag eða eitthvert annað félag. Gaf frúin okkur kaffi og leið okkur vel um nóttina á loftinu í þessari nýbyggingu. Þar voru fyrirtaks hagar fyrir hestana.
ágúst
Næsta dag héldum við af stað um 10 leytið niður að Hvítá og eftir litla leit fundum við ferjuna og rerum yfir með farangurinn, en létum hestana synda á eftir bátnum. Þaðan fórum við sem leið liggur niður með Hvítá og niður að Gullfossi. Tjaldað neðan við Hóla.
ágúst
Síðan farið að Geysi og vestur Laugardal, að Laugarvatni og á Þingvöll. Gist.
ágúst
Um Uxahryggi að Hesti. Þar með lokið ferð á hestum.
Viðauki
Í dagbókinni eru ýmsar upplýsingar aðrar en ferðafrásögnin. Þar eru allmargir "jarðvegsprófílar", niðurstöður pH mælinga, teiknað kort af Háls- og Vaglaskógi, plöntulistar og alllöng lýsing á útbreiðslu "hvítu öskulaganna" í Þingeyjarsýslum.
Leitarorð:
Hákon Bjarnason