Það þótti á sinni tíð (1966) einstakt hæverskuleysi hjá Þorsteini Jósepssyni að svara ritdómi Eiríks Hreins Finnbogasonar um bókina Landið þitt. Nú mun það ekki þykja neitt tiltökumál, þó að höfundar leyfi sér slíkt.
Tilefni þessara skrifa er ritdómur um bók mína, Mosar á Íslandi, eftir Ingibjörgu Svölu Jónsdóttur, sem birtist í Náttúrufræðingum nýverið (89. árg. 3.-4. h. 2019: 150-153), tæpu einu og hálfu ári eftir útkomu bókar. Í heild sinni er dómur lofsamlegur og engin ástæða til þess að kveinka sér undan honum. Miklu heldur hefði hún mátt gera harðari hríð að ýmsum áhorfsmálum og jafnvel benda á nýmæli í umfjöllun á plöntum.
Ingibjörg ræðir meðal annars um nafngiftir. Það má ekki gleyma því, að það var Helgi Hallgrímsson, sem lagði grunninn að nafngiftakerfi mosa, þó að Bergþór Jóhannsson eigi heiðurinn að flestum nöfnum. – Ekki er hún sátt við nöfn, sem eg valdi á fylkingarnar. Að dómi íslenzkufræðinga og annarra málhagra manna, sem leitað var til, er "soppmosi" illa valið orð eins og reynt er að röskstyðja í bókinni; fyrir því var annað orð valið.
Það kemur dálítið á óvart, að Ingibjörg skuli segja, að bókinni hafi "augljóslega" verið settar "fjárhagslegar og tímalegar skorður". Vissulega er þetta umdeilanlegt með tímann, en fjárhagslegar skorður voru engar. Eg hafði ekkert viturlegra að gera með "sparifé" mitt og gerði mér grein fyrir því, að eg fengi aldrei greitt fyrir þá vinnu, sem eg lagði í verkið og gaf bókina út á eigin kostnað. Á hinn bóginn hafði eg gert mér vonir um að fá að tengja bókina við Hið íslenska náttúru-fræðifélag og hún yrði gefin út að "tilhlutan félagsins", en án allra fjárhagstengsla, einkum til að ná til félagsmanna við sölu, en einnig í þakkarskuld við félagið. Áður en til þess kom var eg flæmdur burt úr því félagi.
Eg átta mig ekki fyllilega á því hvað Ingibjörg telur ábótavant við umbrot, band og prófarkalestur, nema það, að bókin er með hörðum spjöldum og fer illa í bakpoka. Hún segir "faglegar ráðleggingar hefðu getað bætt útlit bókar", eins og hér hafi eintómir fúskarar komið að málum. Svo var öldungis ekki og kunnáttumaður hefur einmitt lokið lofsorði á umbrotið, sem var alls ekki auðvelt. Þá hef eg ekki rekizt á beinar prentvillur og eg leyfi mér að fullyrða, að prófarkalestur sé með hreinum ágætum, enda þaulvanur maður stóð þar að verki. Eg lagði metnað minn í að vanda málfar og það eru ekki ambögur á annarri hverri síðu eins og í öðru grasafræðiriti, sem kom út um svipað leyti. – Það væri vel þegið að fá ábendingar um slæman prófarkalestur.
Við fáeinar tegundir stendur, að nánari vitneskja liggi ekki fyrir um vaxtarstaði. Ástæður eru ýmsar. Eg leitaði eftir upplýsingum um ryð-bura frá Þrándheimi, þar sem eina eintakið er varðveitt, en þá stóð þannig á, að safninu hafði öllu verið pakkað niður vegna flutnings og því ekki unnt að svara mér. Í annan stað svaraði ekki ákveðinn maður, þrátt fyrir ítrekaðar fyrirspurnir af minni hálfu og varð eg að láta þar við sitja. Í þriðja lagi hefði þurft að athuga tiltekið eintak mjög gaumgæfilega með samanburði við eintök frá útlöndum, en því miður gafst ekki ráðrúm til þeirra hluta. Þessar tegudir eiga fullt erindi í bókina og flokkast alls ekki sem "vafasamir fundir". – Verst þótti mér þó, að á Náttúrufræðistofnun Íslands lágu fyrir upplýsingar um fáeinar nýfundnar tegundir, sem mér var ekki sagt frá, þó að menn þar á bæ vissu mætavel, að eg væri að vinna að bók um mosategundir.
Ljósmyndirnar eru sérstakur kapítuli, sem of langt mál yrði, ef ræða ætti hér. Vissulega eru þær æði misjafnar. Það skal þó áréttað, að allnokkrar tegundir bera greinilegri einkenni þurrar en rakar (til dæmis kletta-prýði) og síðan er það hægðarleikur að bleyta upp gömul safnintök, gerist þess þörf.
Það er rétt athugað hjá Ingibjörgu, að bókin hentar ekki vel til að taka hana með sér út í náttúruna. Í mosafræðum er oft gerður skýr greinar-munur á inni- og útilyklum (field and microscope keys), sem henni ætti að vera kunnugt um sem vistfræðingi. Margar tegundir er auðvelt að greina með góðu stækkunargleri (lúpu), en því fer fjarri, að það gildi almennt. Eg taldi því nauðsynlegt, að miða við tegundargreiningu með hjálp smásjár. Eg get glatt hana hins vegar með því, að eg hef í smíðum einfaldari útgáfu – sem passar í bakpoka – að greiningarlyklum með ríkulegum teikningum, sem gæti auðveldað fólki enn frekar, ekki sízt ungmennum, að kynnast undraveröld mosa. Hvenær mér auðnast að koma því verki frá mér, læt eg ósagt.
Í sjálfu sér er greining á mosum til tegunda ekki ýkja flókin. Aðalvandinn er fólginn í því að kunna að útbúa sýni til þess að skoða í smásjá. Nái menn að tilreiða gott sýni af blöðum og stöngli og gera þverskurði, er hálfur sigur unninn. Þetta getur reynzt vandasamt í byrjun, en lærist mjög fljótt. Einnig getur verið vandaverk að útbúa sýni af baukum, en það er mun sjaldnar, sem þess gerist þörf.
Eins og áður segir fer Ingibjörg hvetjandi orðum um bókina, þó að hún amist við nokkrum atriðum eins og vera ber í ritdómum og getið er um hér að ofan. Engu að síður telur hún bókina "mikið fagnaðarefni öllum þeim sem unna náttúru Íslands". Fyrir það er eg þakklátur.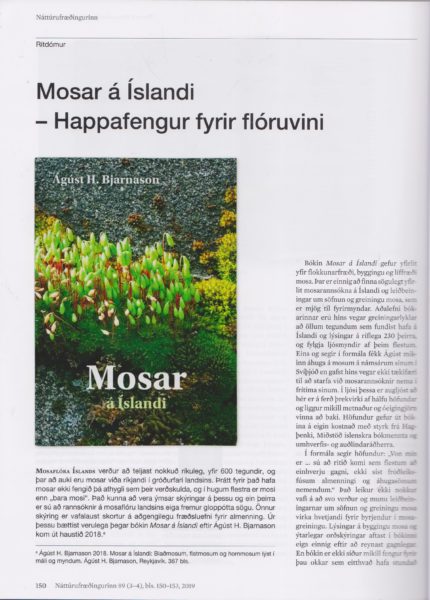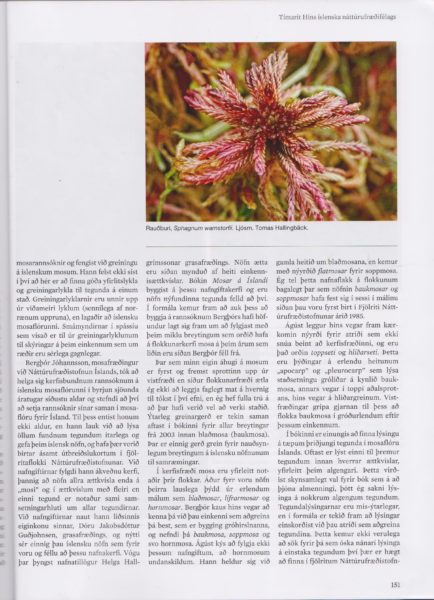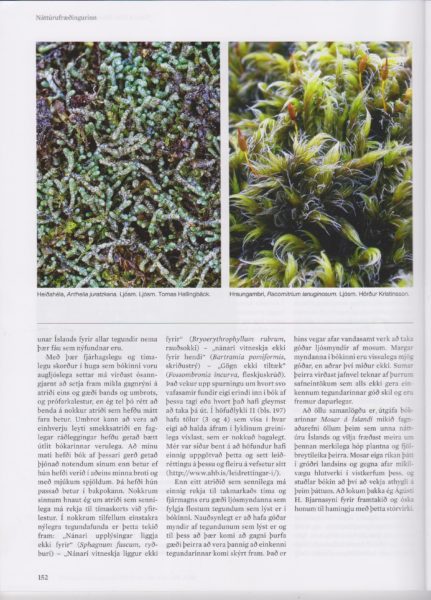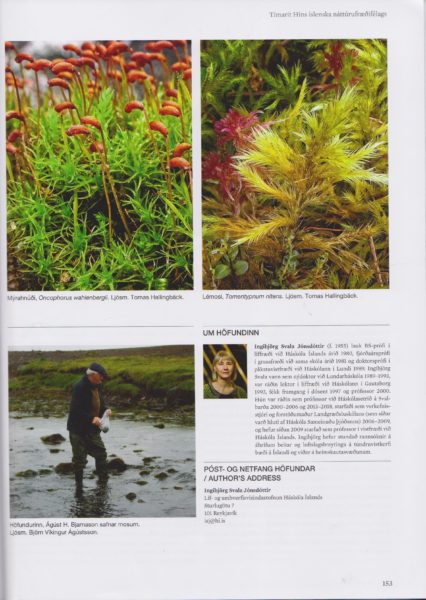 Leitarorð:
blaðmosar
•
flatmosar
•
hornmosar
•
mosar
•
mosar á Íslandi
•
ritdómur