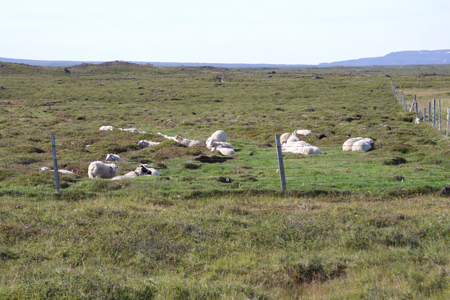 Í American Journal of Botany birtist mjög hnýsileg grein (THE FUNCTIONAL ROLE OF PRODUCER DIVERSITY IN ECOSYSTEMS) sem rennir frekari stoðum undir það, sem sumir töldu sig vita. Þar er bent á það, að útdauði plöntutegunda er jafnalvarlegur og hlýnun andrúmslofts, þynning ózonlagsins og áburðarmengun. Fram til þessa hafa flestir litið svo á, að það sé eftirsjá að fækkun tegunda en hafa ekki gert sér grein fyrir því, að fækkunin leiðir einnig til þess, að heildarframleiðsla lífræns efnis fellur mikið og það mun bitna á manninum, er tímar líða.
Fari svo, að fimmtungur tegunda hverfi úr vistkerfi minnkar framleiðsla lífræns efnis um 10 prósent. Sennilega eru áhrifin enn meiri, því að í þessari athugun voru dýr ekki tekin með.
Því er haldið fram, að fjölskrúðug gróðurfélög gefa meiri uppskeru og stuðla að betri hringrás efna en hver einstök tegund. Höfundar hafa grandskoðað hundruð greina um gróðurfélög allt frá einfumungum til skóga og ber allt að sama brunni. Safnað hefur verið saman niðurstöðum úr fleirum en 400 birtum greinum og telja þeir sig því geta fullyrt, að því færri sem tegundirnar eru í gróðurfélögum þeim mun minni er heildarframleiðsla lífræns efnis.
Gróðurfélög eru eins og gott knattspyrnulið; til þess að sigra þarf góðan markaskorara en einnig dugmikla varnarmenn. Það eru einkum tvær meginskýringar á því, hvers vegna tegundarík gróðurfélög eru öflugri og gefa meira af sér en hin tegundasnauðu. Önnur er sú, að meiri líkur eru á, að í gróðurfélaginu sé að minnsta kosti ein öflug tegund, sem stýrir vistferlinu og hin er, að margar tegundir bæta hver aðra upp. Staðreyndin er sú, að margar tegundir, sem lifa saman í félagi, skipa sér ekki í sama sess og nýta sér, að þarfir hverrar tegundar eru ólíkar. Með öðrum orðum því fleiri sem tegundirnar eru, þeim mun betur nýta þær umhverfið sameiginlega sér til vaxtar og viðhalds.
Vegna inngripa mannsins og hækkunar hita fækkar tegundum. Nær allar lífverur á jörðinni eru háðar plöntum. Fækkun tegunda mun því fyrr en seinna bitna á ótal tegundum með ófyrirsjáanlegum afleiðingum. Áður var fremur óljóst, hvernig fækkun tegunda bitnar á okkur mönnunum. Vissulega töldu margir eftirsjá í útdauðum tegundum en gerðu sér engan veginn ljóst, hverjar afleiðingarnar gætu orðið.
Fækkun tegunda um 1 til 20 % hefur ekki mikil áhrif á myndun lífmassa, en þegar tap á tegundum nemur 21 til 40%, dregst lífmassi saman um 10%. En það er álíka mikið og hlýnun jarðar kann að valda.
Fækki tegundum enn frekar leiðir það til enn minni framleiðslu á lífmassa. Afleiðingarnar, sem það mun hafa í för með sér, verða skelfilegar fyrir mannkynið. – Hvet menn til þess að lesa þessa grein.
En svo er annað, sem snýr að okkur sjálfum. Sauðkindin, sem er framandi tegund á Íslandi, hefur tvístrað íslenzkum gróðurfélögum. Gróðurfélögin eru ekki nema um 10 þúsund ára gömul, en urðu fyrir gríðarlegri röskun fyrir rúmum ellefu hundrað árum, þegar sauðfjárbeit hófst. Því miður hafa þessi áhrif á upprunanlegan gróður aldrei verið rannsökuð.
Greinina má lesa í heild hér:
http://www.amjbot.org/content/early/2011/03/02/ajb.1000364.full.pdf+html